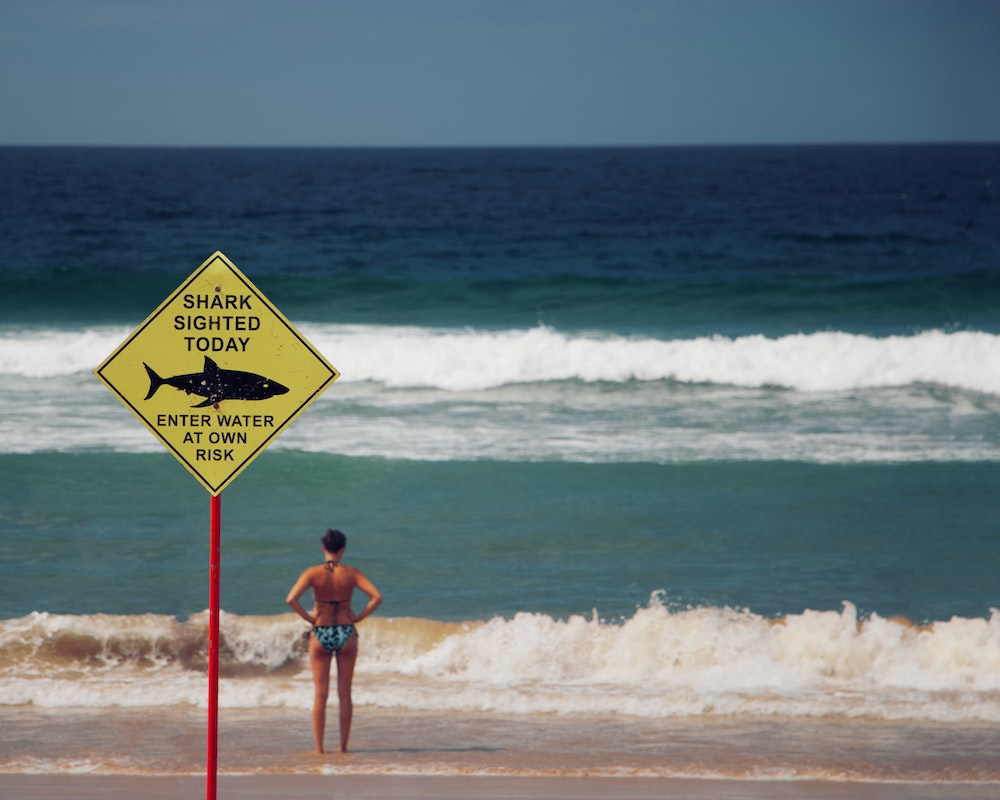 Jawsome paraphernalia for ocean-goers who want to pay respect to the Gs of the sea. 
By: Britt Mattie (somewhere elsewhere – @_bmattie_)
Nightmarish predispositions of the slippery taxman were placed in our heads back in the summer of '75 when JAWS hit the big screen. In the wake of its manic response, Hollywood and media-driven paranoia opened the floodgates to heaps more panic-stricken horror films made to inject primal fear into our blood. Deep Blue Sea, The Meg, 47 Meters Down, The Shallows, SharkNado, Open Water—the list anchors on. The overhyped shark attack hysteria may have gotten to the shoobies who refuse to set foot in saltwater at dusk, or on their period. Let them do them. Real ocean-goers and shark lovers know better than to feed into the notorious perception they've unfairly been pinned with as ruthless, rogue killing machines. If you can get past the predatory fear of a dorsal fin cutting through the surface whilst straddling your board between sets, or the multi rows of razor-sharp teeth trying to steal your fresh catch from your speargun, or the vacant black gaze of an eerie orb stalking you as you scuba a reef, sharks really are mystifyingly and hauntingly beautiful. With caution and curiosity, divers, fishermen, surfers, researchers and the like will always choose to enjoy and explore the ocean's wonders—all while paying their respects to the landlord of the underworld.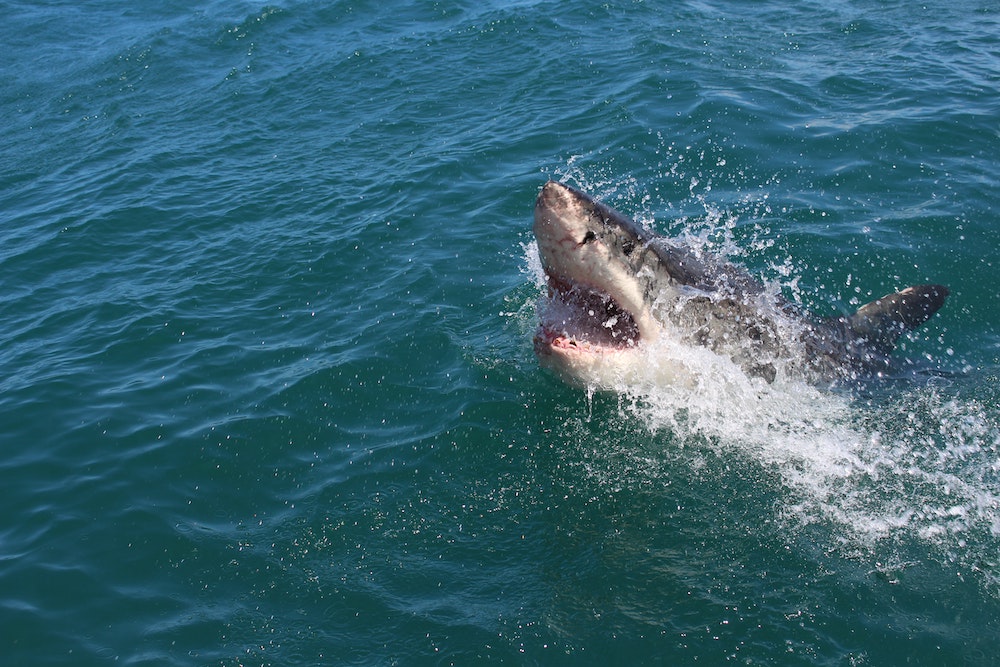 If you're someone like myself, you have a fear and fascination for these magnificent creatures that ironically go hand in hand. At times, I actively seek them out and crave to be close to them—from cage diving with Galapagos sharks in Haleiwa, HI to snorkeling with Whale sharks in La Paz, Mexico. Other times, I'd prefer they keep their distance from my personal bubble—much like recently, after Tropical Storm Isaias ventured up the eastern seaboard. The storm not only stirred up some decent swell in Melbourne, FL, but lots of fish snackage for some active Hammerheads who didn't seem to mind, or bother, the dozens of surfers and myself sitting in uneasy awe just a few yards away. Admittedly, I'm quite smitten by the boys in blue. So much so, I've inked the side of my hip with an overhead visual of a curvy Nurse shark tat, I've held onto a Great White stuffed animal from the New England Aquarium gift shop from when I was grom, I follow one too many shark-themed Instagram accounts, and have occasional f*cked up curiosities of what it would be like to be nibbled by one on the ankle and be able to smuggly show off the gnarly scar anytime I'm forced to play two truths and a lie.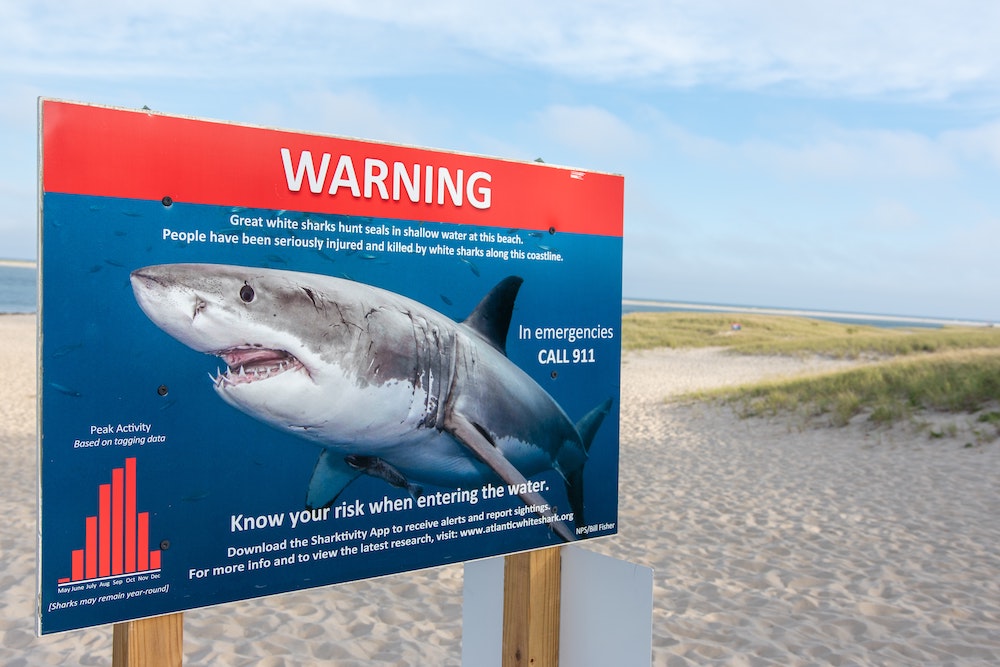 Thankfully, with Nat Geo's annual televised event SharkFest running its full course July 19-August 23, and Discovery's Shark Week, August 9-August 16, there is no summer shortage of devouring gripping, entertaining content dedicated to the salty sea dogs. And with a recent social media movement to break the taboo of peacefully interacting with sharks, many marine scientists, environmentalists, and freediving photographers are using their platform for the greater good. IG accounts like OceanRamsey and JuanSharks—with over 1.6M followers combined—not only share enchanting underwater shots up close and personal, but are educating the masses on misconceptions of the species, the rarity of being provoked/attacked, the stark realities of overfishing and water pollution, and the importance sharks hold in our ecosystem. In part, many oceanic foundations are highlighting their research and conservation efforts. These initiatives are getting more love than ever with a newfound appreciation for these wild, majestic beasts. In fact, the purchase of many of the merch listed below gives back a percentage to organizations that are making waves in the battle to protect the reputation and existence of shark friends.

XCEL / Juan Sharks Tiger Inspired Free Dive Comp 4/3MM Full Wetsuit – $335

XCEL / Ocean Ramsey Whale Shark Inspired Long Sleeve Crop Top UV 20 – $60

Salty Crew Bruce Straw Hat – $24

Sand Cloud Whale Shark Turkish Towel – $47

Society6 First and Last Swim of the Day iPhone Case -$36

Stance Classic Crew Socks Brucey– $11

SharkBanz Bull Shark Deterrent Band – $84

Free People Diamond Shark Tooth Threader Earrings – $188

OMNA Marine Tourniquet Surf Leash – $

Where's Your Sandbar Beach Responsibly Tee – $24

Olivela Verde Limón White Shark Sol Bikini Top + Liguria Bottom – $177 / $183

Society6 Shark II Yoga Mat – $39

Lee Renee Shark Jawbone + Tail Cufflinks Gold – $146

Jaw Ready For This? Coffee Mug – $10

Freestyle Watch Shark Leash Sahara – $60

Fin Fun Shark Fin Pool Toy / Costume Accessory – $25

Knockaround Special Release Shark Week Fort Knocks Sunglasses – $35