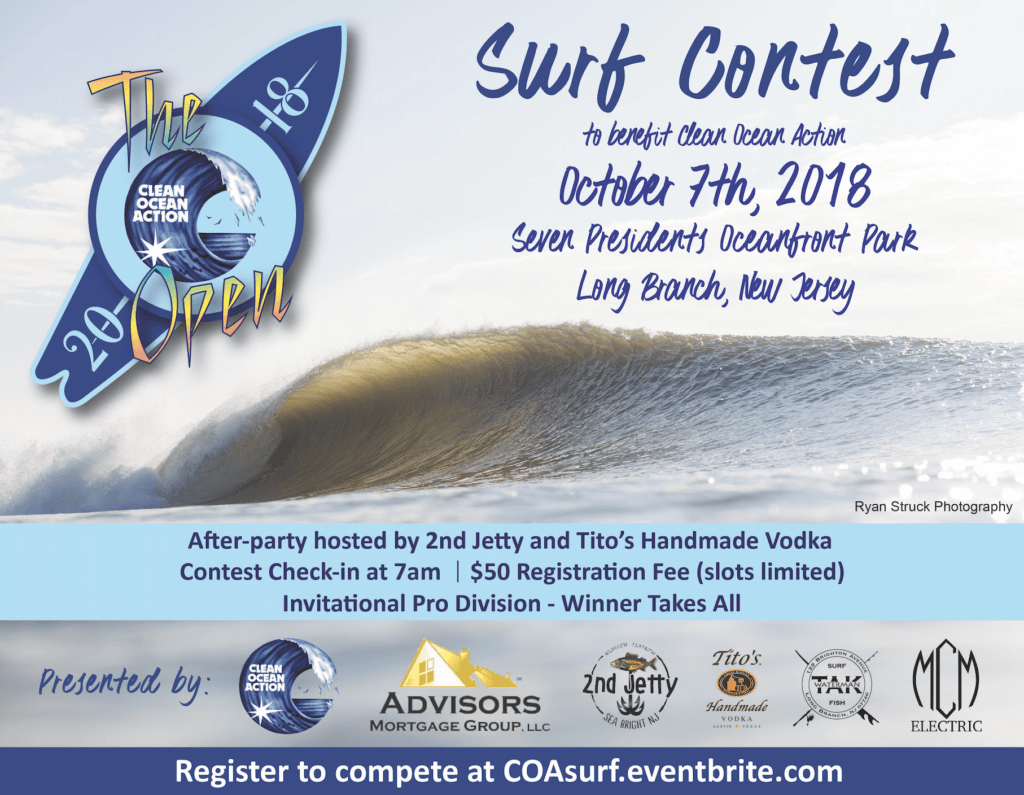 Many surf contests on the East Coast occur during peak Summer season. And yea, I get it, this timing guaruntees high attendance rates, nice weather, and ultimately plenty of money exchange happening at the contest site and in the surrounding town. However, none of this matters when the waves are flat and dudes are riding 5'8″ thrusters in 1-foot surf…
Clean Ocean Action said Screw that! As a result, the non-profit is holding a surf contest during actual surfing season (Sunday, October 7th) with an overall goal to spread awareness of ocean conservation. So, we are crossing our fingers for some juicy, Jersey surf for this first weekend in October 2018 .
Sponsors of the event include big names like Advisor's Mortgage Group and Tito's Vodka, local restaurants like 2nd Jetty in Sea Bright and Coffee Surf Co., and even the newest surf shop in Monmouth County: Tak Watermen Surf & Fish. With support from the sponsors, local surfers like Mike Gleason, and dedicated ocean conservationists, this contest is shaping up to be a fun time.
The comp will feature a hand-selected, Advisor's Mortgage Pro Division as well as paid entry divisions for shortboarders and longboarders of all ages and genders. Clean Ocean Action has a plan is to start the first heat at 7am on that Sunday and received news that after "a donation from The Hope for Children Foundation, in memory of Greg T. Hickman, the Mens 18+ and Womens 18+ divisions will have a $500 cash prize for the winners." according to Spencer Munson, the company's Resources and Event Coordinator.
Rightfully so, the event organizers want to have the best surfers in the water when the waves are best so the heat schedules will stay flexible. We'll be there slinging mags, surfing all day, and getting boozed at the after party–we hope you all can do the same. See yous there (: