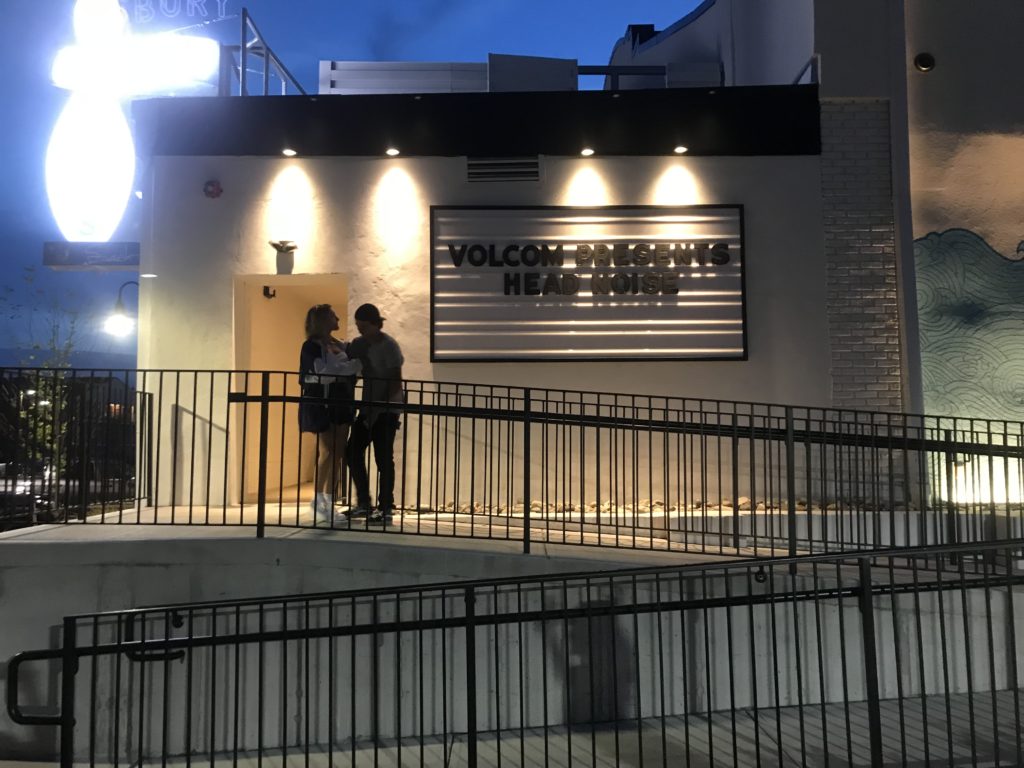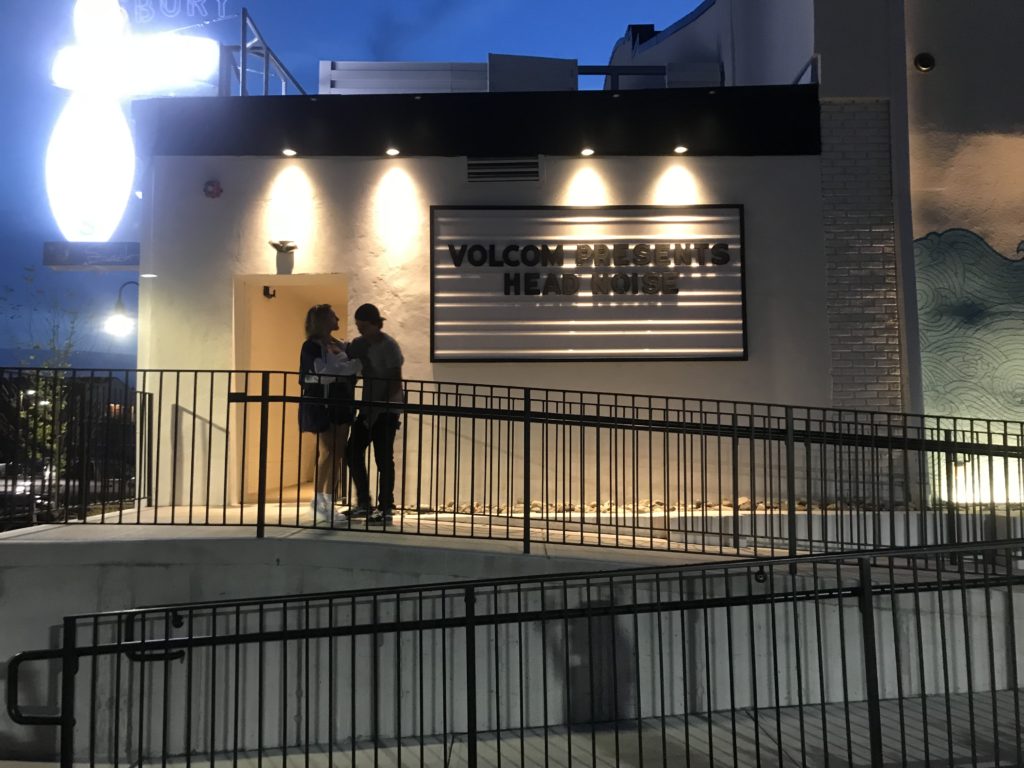 Pictured above, we have Joe Sedlak (Mr. Rigggs, who was featured in our latest "Surf Rigs" article in RSM Spring 2018) and a lady friend he introduced me to that night whose name I (sadly) cannot remember. We entered into the pictured–newly renovated, if I might add–music and bowling establishment.
It was "Head Noise", Noa Deane's newest surf flick on Asbury Lanes' big screen. There were two big bars, the beer/ liquor was flowing, and the crowd was STOKED. A DJ played while new t-shirts were tossed out, and as moviegoers boogied in their bowling kicks.
As the tunes faded and the Master of Ceremonies introduced the films to come, the crowd was greeted with an unheard-of new flick by @skell featuring Volcom team riders like Balaram Stack, Pat Schmidt, and Mitch Coleborn. The film depicted Balaram's lifestyle along New York this last Fall season of Hurricane waves as well as his extended stay on the North Shore of Hawaii.
The @skell video was warm, friendly, and said "Fuck off" all at once. Best friends surfed, skated, drank, laughed, and travelled on screen in unison and in overall shredding fashion. It was edited to some NY-style, hip-hop tunes and surf rock. Despite the professional filming, editing, and surfing that went down during this edit, the video had a rough-around-the-edges vibe that promoted a bit of edginess. It was great.
After the crowd cheered, grabbed new drinks, and the lights dimmed again "Head Noise" blared! The edit was "Fucked Up", was the resounding response from the world's watchers. We agree. Noa does not give a fuck. He blasts air attempts that make me nervous even with thousands of miles and a few screens in between myself and the actual attempt–and he lands (most of) them.
Noa is often pinned as an air guy, but the technicality of his surfing extends to tubes and man hacks equally. He has truly thrown his name into the hat of guys that are devoting themselves to progressing the sport and being basically the gnarliest they can be. We loved this film and the people of Asbury Park hooted, hollered, and howled hilarities with every new line that Noa drew.
There is no doubt that the movie and overall "Head Noise" tour was huge for Noa Deane. However, the theatre and crowd exuded a bit of sadness into the surrounding area. The MC told the audience that Noa was dealing with "family issues" and could not attend. Days later, the surfing world was notified that Noa's father and longtime surfing legend, Wayne Deane had passed on. Our deepest condolences are with the Deane family–we hope that these experiences only motivate Noa to be better than the competition. Good job Noa and great work Volcom.