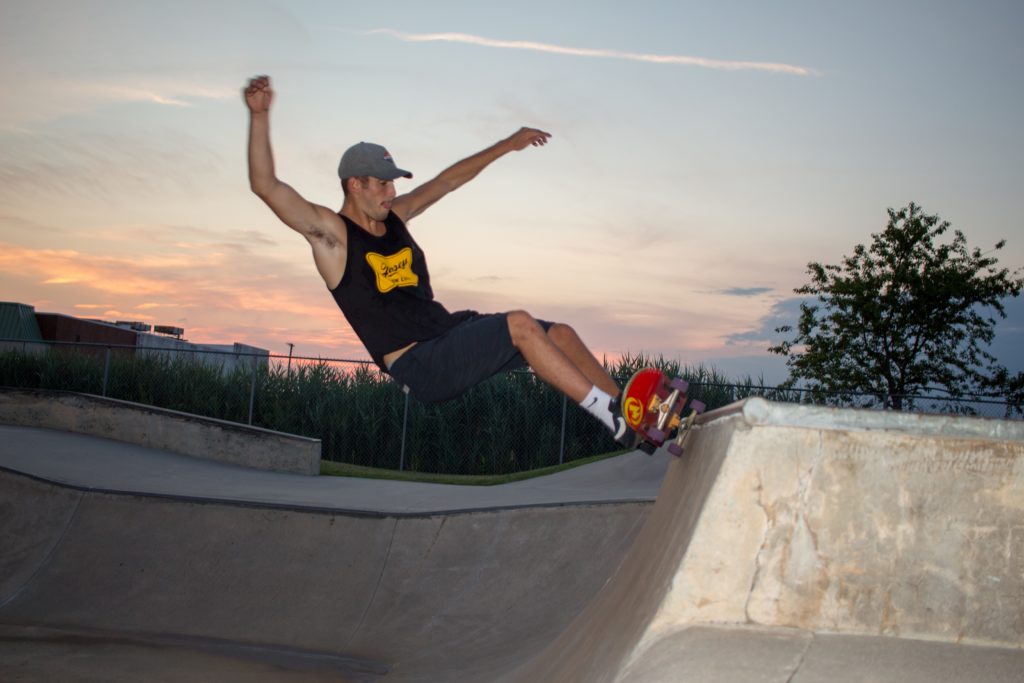 Over the weekend, Tom Feraco and Nate Gain linked up for some quality action shots in the North Wildwood pool. The angles are great and the photographer was able to capture it all during an always-epic Wildwood golden hour.
While Nate would probably have been shooting whoever was at the park that night no matter what, it took a special combination of nicotine and determination to get Feraco to his current state of shred. A while back, Tommy Pickles had nothing more than a hot girlfriend going for him. He quit playing ball—barely surfed, skated, or enjoyed any other sportsguy activity. Nonetheless, Tommy can now calmly pick apart each aspect the NW park has to offer in his own, special way.
'How did this transformation occur,' you ask? Well, like we said, lots of determination and nicotine… But, even more so, Tom's progression in skating had much to do with bettering himself and stepping out of the boundaries that many young people place themselves in.
Prior to last year, Tommy had never tried skating seriously. However, once he got a taste of the bowl, he never left the park. He didn't care who went with him or even if the guys skating around him were ripping too hard. He allowed new friends, a new level of discomfort, and a new (obsessive) love for Action Bronson's rhymes fuel his rise to a comfortable relationship with skating.
Feraco attacked it daily, forming friendships with his fellow loc-dogs and learning how to do new shit every step of the way. He even told our friend Dom to try airs in an attempt to get him hurt and gain more time to better his craft (which went totally according to plan after Dom broke his ankle airing to flat).
Whatever the terms of Tommy's success, he is now ripping it up along with the South Jersey Pool Sharks crew. These guys are all dedicated to sharing the park and drawing their own interesting and individualized lines on the concrete canvas.
Check the gallery below for more skate photos from Nate Gain. Cheers to life–whether it's skating, surfing, taking photos, or playing chess, follow Feraco's example and allow any sort of progression turn tp happiness (or photos of the boys shredding).