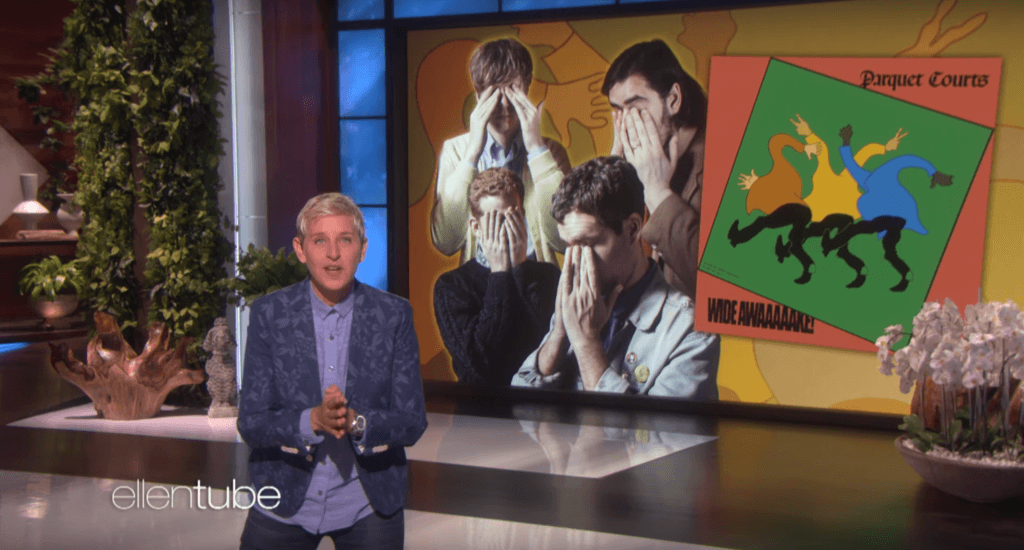 "We are conductors of sound, heat, and energy."
These are the first words Andrew Savage howls at an excited, thirsty, drunk audience in muggy Philadelphia. He knows what he's doing. He appears to be well-versed in the ways of energy transference. And, sure enough, the crowd becomes liquid. No one's safe. Put that camera back in your pocket, dude. Now's not the time.
Sean Yeaton's head banging isn't really in sync with his bass playing, but we forgive him. His skillset is well highlighted on Wide Awake! and his apparent propensity for cranial gyration is actually rather charming.
Wait, am I having a heart attack? Oh, no, that's just Max Savage's bass drum I feel in my chest. Phew, that's a relief. They haven't even played any of the old shit yet.
I'm standing closest to Austin Brown whose purple Mardi Gras beads are, in fact, chipped. I've seen Parquet Courts a few times before, but this show is already distinct. Light Up Gold will (probably) always be my favorite album, but this new one is all types of compelling. And hearing the new tracks live, not in my basement, is refreshing.
Parquet Courts is a band that is somehow able to remind you of other bands (Silver Jews, The Fall, Minutemen, Talking Heads, etc.) without seeming even moderately stale or trite.
They're punk, they're pensive, they're melodic, and they're affecting. "NYC Observation" is a highlight track for me. I mean wow, that thing rips. And it's poignant, too. It's a sort of snapshot of what I believe to be the essence of Parquet Courts. The gravel in Andrew's throat nearly shakes itself loose as he roars through that one and makes one of his most passionate social judgements of the evening.
Last week, I drove from NJ to CA and the fresh memory of this latest gig kept me considerably saner than I had assumed I'd be.
So please, for the sake of us all, pray each night for that Bandsintown notification concerning the whereabouts of Parquet Courts. And maybe bring a pair of inconspicuous ear plugs (flesh colored, preferably) to the show. Safety's important, but you wouldn't wanna look like a dweeb.
–John Waldron (@_johnwaldron_)
Whether you're interested or completely offended by Mr. Waldron's assessment of the Parquet Courts show in Philly, we have more equally-awesome musical insight in the next edition of Rambler Surf Magazine. 
One of our best, good buddies, Dominic Bilello (@dombilello) was enlisted to share his own comments and criticism on bands/artists like Parquet Courts, Freddie Gibbs, Cut Worms, and Sleep. His writing has been printed on shiny, photo paper for all ya'lls enjoyment in RSM Spring 2018 edition.
Please head to our magazine launch party this Sunday evening or buy online to get your own version of RSM Spring 2018.