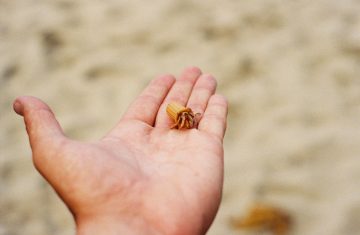 Our new friend, Joe McGettigan chose to spend some of his Winter season on the West Coast of Puerto Rico. In the heart of the Caribbean and in a surf-central environment surrounded by great people, Joe learned the craft of film photography along with that of making the perfect Rum Punch.
"I originally bought a ticket for a week stay, but kind of knew the whole time I would be there longer," said McGettigan. "The second day I was there, Red Eye asked me if I wanted to start working at the bar again. I said hell yes and that ended up floating my trip for an extra month and a half."
Believe it or not, these are some of McGettigan's first-ever film shots.
"Before I left for the trip my Dad pulled out an old Pentax K1000 that he bought when he was 13," said Joe. McGettigan shot with two different lenses; "one was an f1.2 fixed 50mm lens and the other was a strange 80-200mm."
While PR's beautiful landscapes and interesting inhabitants provide a perfect place to learn photography, Hurricane Maria wiped away local businesses that used to develop film. "I had to wait until I was back in the States to see if the thing worked at all."
McGettigan was an amateur photographer who had never even seen a roll of his own film developed. Despite it all, his eye for photography shines through in the gallery below. Many of the photos are beautifully framed and captured at the most optimal moments to deliver a distinct emotion to the picture-viewer.
Joe was able to visit some great places with some even greater people–something that he partially attributes to his newfound interest in photography…
"It's kind of lame to say this, but I think having a camera motivates me to get out and do shit," explained McGettigan. "For example, in my B/W roll, there are a few photos of this flipped over rental car that someone had lit on fire and left in the sand. So naturally, we had to crawl inside of it and try to make a shot out of it. The film camera makes you strive for the best shot because you've got 36 shots max and film isn't cheap."
"If you are going on a trip, take a camera, get weird, and help eachother with photo ideas," finished Joe. "It's a great time if the waves are flat, or the bars are empty," (as if that ever happens during a Caribbean Winter).
All photos by Joe McGettigan. Enjoy…