It's been a decade-long love affair with the Outer Banks. All these years, the trip South has never gotten stale. Each year excitement builds, the weather wanes, and the Southern shores seem more appealing. This year was no different as whispers of the voyage called to travelers from New Jersey, Florida, Pennsylvania, Virginia, and even as far as Hawaii.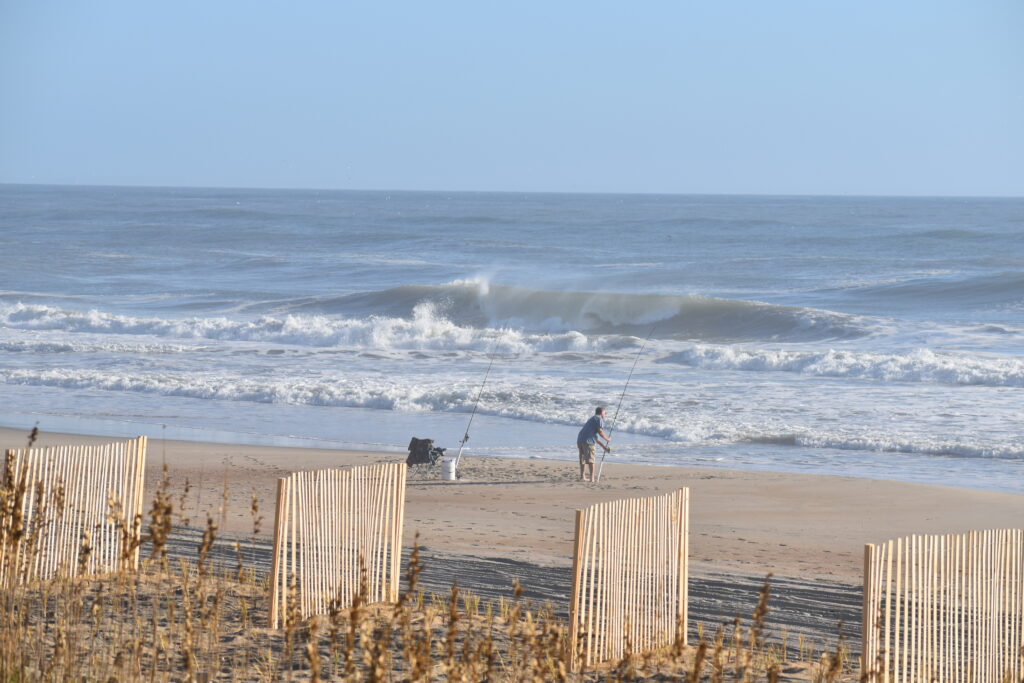 The C-Suite execs of URN Surf Co. pulled no punches this year–shacking up the best of the best in an oceanside mansion. Steps from spitting barrels, the salty rental estate boasted hot tubs, nudey mags, and seemingly endless meats. In one case, the dudes found hot dogs bobbing around in the hot tub–cooked to a perfect 100-degree temperature with Grey Poupon within arms reach.
So as customary, the URN friend crew was reunited once again. Underneath two roofs just blocks apart, there were gatherings of childhood friends as well as brand new connections being made. This combination of core lord shredders was dangerous, but was deemed wildly necessary.
There came big showings from important players in the surfing drinkers community. Records were set for extensive partying, wizard staff length, spiciest burrito, spots scored, consecutive days of surf, and pounds of meat consumed–all set to the steady tune of a local station, Radio Hatteras.
One of the runs of marathon surf looked like this…
Photography: Nick Holland & Ryan Gallagher
The surf didn't stop, and neither did the consistent visitors. There was a running joke regarding the constant flow of "first night jitters." By definition, this phrase describes the phenomenon an individual experiences when arriving on the Banks–they're smacked by a wave of emotion and excitement which often leads to aggressive liquor consumption.
Every visitor experienced this phenomenon. So, even a person on his or her eighth day of OBX (often worn down at that point), they will join in on any first night adventures. Most often this includes a night out for dinner, followed by beers. In other cases, travelers were welcomed with a hot meal from the kitchen's crock pot, followed by beers. Or the crew would congregate on the beach for a bonfire, followed closely by beers.
While many came and went, there were some individuals lucky enough to stay in the URN house for the entire 2+ week span of time. In one particular case, the thought of waves on OBX was so tantalizing it drew one "Mikey Barrels" back from his departure the week prior! Others ditched responsibilities at home to extend their stay (kidding themselves that they'd go home on time).
In between all of these comings and goings, there were sessions of all sorts. Pier sessions…
Photos: Nick Holland
This trip was also characterized by surprise sessions… Checking the surf forecast on the way South, it looked like a mess. It was the end of October and a small crew was ditching usual Halloween festivities due to the superstition of spooky waves on the Banks. Better to be in the tube than hungover laying in bed on Nov. 1st–right? Well, the surf looked large and the winds looked heavy. But every so often, the forecast would change, the winds would chill out, and it would turn on. In one particular case, a popular spot on the island was absolutely firing. There was a light onshore breeze, the water was warm and alive. Dolphins jumped out the back while sets capped. Looking out at the surf from the lineup, "Big O" asked "What's that, Ryguy?" It was dark-armored and looked heavy. The next thing I knew, I was getting smashed with a set that broke up the whole lineup. All we could think was–hopefully the turtle wasn't about to land on our heads. Luckily, the plentiful barreling lefts eased our minds as the big old loggerhead turtle drifted off.
Photos: Nick Holland
In other cases, there were "the days." The days that we knew the wind would be offshore, and there would be head high surf. For me, these days are easy to forget. Especially when the best waves of the trip come out of nowhere on a day when you weren't sure you'd even paddle out. At the same time, who doesn't love a sunny day with just your boys surfing head-high & clean waves in the Southern sun.
More photos by Nick Holland–thanks buddy…
Once again, it was over. The mansion owners found out that it was the URN crew who'd rented their not-so humble abodes. Chasing us with fires and pitchforks, we fled North. And after everyone was surfed out and sore, the only feeling was happiness and stoke to come back again next year
Luckily, our buddy Joey Chapman had his wits about him to record some of the fuckery. He posted it on his freelance media man page here. Go check it out and let us know what you think. Thanks for stopping by… Now get outta here scumbag!