It's time to assault the beach. Winter has waned and Spring is (kinda) springing. While devoted wetsuit warriors are still charging cold swells on the Atlantic, the water and weather are slowly starting to warm. Soon surfers will molt their outer layer of neoprene in response to rising water temperatures. Contrary to popular belief, surf season in NJ usually runs from September to March; the biggest swells pulse through during these months. As the summer season arrives, boardriders naturally have to change the surf craft under their feet.
"While gutless summer surf sounds extremely lackluster, it doesn't have to be. You can't change the waves (without a plane ticket at least), but you CAN have the right small wave gear to maximize your wave count and have way more fun than you may have thought imaginable in summer slop," says Dave Kaminsky.
Mr. Kaminsky owns and operates DaveySKY Surfboards and currently shapes custom boards for his clients out of his headquarters in Manasquan, NJ. As a 29 year-old shaper and lifelong surfer, Dave understands which boards work well in any situation, for any surfer.
Longboards
"Admittedly, I was always averse to longboards when I was younger (for no good reason other than my stupid ego). It took two or three waves of surfing a longboard to realize how much of a huge mistake that was, and how many days of fun waves I'd missed," said Kaminsky.
Surfers succumb to monotonous practices just as anybody else can. Riding the same board over and over is beneficial, however sometimes a particular wave can beg for a certain type of surfboard.
"There are some days that are really just meant for longboards. And having a good longboard can double your wave count and days in the water in the summer," says Kaminsky.
Below you can see some of the longboards that Kaminsky will ride, sell and shape for smaller summer swell. "The Beach Cruiser (pictured below in blue) is the ultimate NJ summer cruiser longboard; anywhere from eight to nine feet should do the trick. These boards have a healthy amount of foam and stability, low nose rocker with catch-free rails, and tons of speed," says Kaminsky.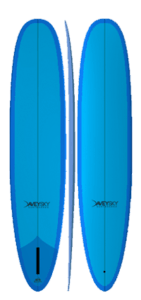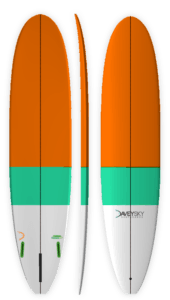 Beginner surfers and more skilled riders both can benefit from a bigger board when the waves are not presenting size. Kaminsky often targets the more avid surfer when looking to sell his boards. A new Beach Cruiser from Dave comes at a standard price of $900. However, there are options for surfers who are just starting out and not ready to jump at a committed surfboard purchase.
Monmouth University Communication professor and lifetime Monmouth County surfer, Matthew Harmon has advice for the novice surfer who is just starting out…
"I would suggest finding a board to borrow or rent in conjunction with a surf lesson. Nowadays, they have the soft top boards for beginners, where you're probably not gonna get crunched as much," states Harmon.
Renting a surfboard or even taking a surf lesson can provide beginning surfers with a basic knowledge of the sport. CJ Serratore is an avid surfer, amateur board shaper and surf instructor. "The most basic rule is to go off of the rider's height and weight, this gives you a pretty good indication of how they are gonna balance on the board they are given," says Serratore. CJ continued to explain that, "Dealing with the minimal surf in South Jersey, the longboards tend to be the move. Foam tops, about nine foot, that's the best summer board."
Wavestorm boards (pictured to the below) are commonly used boards for beginner surfers and cost $150 dollars. They are light, made out of soft foam, and can take a beating from surfers just figuring out the sport. These boards are also often featured on "Kook of The Day" and "Kook Slams", try your best not to make it on these social media sites.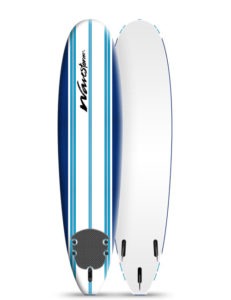 Similar to surfing, stand-up paddleboards (SUPs) can also be an option for surfers in flatter conditions. "My go to is the stand-up. The nice thing about being into the SUP part of it is you can ride waves for sure, but if it's totally flat I can always paddle and get a really good workout," says Harmon.
The same borrow or rent tune should also be sung when it comes to stand-up paddling. The SUP pictured below is about ten feet long and will run the customer $970 dollars. As with surfboards, SUP-buyers should know there are lower-cost foam boards as well as high-priced, fiberglass paddleboards.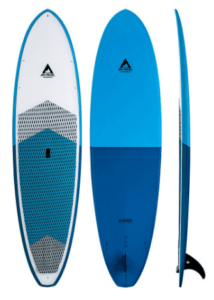 Shortboards
Intermediate and advanced surfers often enjoy riding a smaller board, giving them a different approach to surfing. These surfboards are very common and are usually ridden when the surf is at least waist high. Finding the right shortboard for smaller waves is often a dilemma for many surfers.
"By far, my best summer sellers are my "summer series" groveler shortboards. These tend to be the Reviver, Mango Pit, MicroJet and Coconut," says Kaminsky.
Pictured below are two of these boards, the Coconut (first) and the Focus Flex Reviver. "They take the struggle out of trying to catch waves and make turns like your more typical performance shortboards. They paddle and catch waves RIDICULOUSLY easy and have so much inherent speed, they're unreal," added Kaminsky. The standard prices for Dave's "summer series" boards are in the $600 dollar range.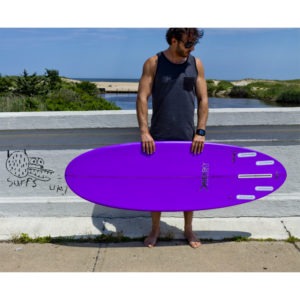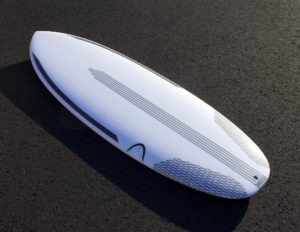 Shorter surfboards have been the trend when it comes to higher performance surfing and progressive surfing maneuvers. While surfers like Serratore will always enjoy surfing a longboard… "It's great if I can get out on a fish or groveler board, if there is a summer bump in swell," says CJ.
Serratore has shaped various types of surf vessels, but chooses his Blowfish model for the standard waist to chest high summer swell. CJ's custom shapes come at a cheaper price due to his amateur shaping status. For example, a custom Blowfish board could cost anywhere in the mid $300-$450 dollar range (Blowfish and Slop Slayer models pictured below).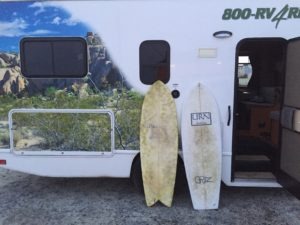 "For intermediate or advanced surfers, a good pickup is something with a lot of volume, a lot of width that is short. Boards with a wide tail, a swallow (fish) tail, a squash tail, anything like that can get you through mushy sections and allow you to find that end section to do that final turn or maneuver on," finished Serratore.
No matter what your skill level and no matter what the conditions have to offer, a wave can almost always be ridden. In this case, having the proper board will make all the difference. Owner of Ocean Outfitters Surf Shop and Southern NJ surfing legend, Jeff Walden has a mantra that encapsulates this idea perfectly. I live by this statement, as should every surfer. Walden once said, "If there is a will, there is a wave."