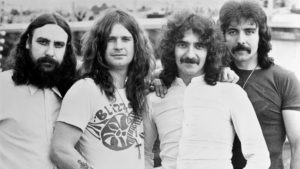 "What is this that stands before me?" Black Sabbath and its' members asked this question quite literally after Geezer Butler experienced a nightmare involving an apparition in his bedroom. However, the band had no idea about the future that stood before them as they took the creative track toward a new genre of music. Black Sabbath's creation of their first album as well as their mere existence within rock music provided a spark that would eventually create the genre of heavy metal music.
"Black Sabbath was born. It was not written," stated Ozzy Osbourne according to Rolling Stone magazine. The band started out playing psychedelic rock and roll as well as a combination of jazz and blues in the 1960's. The band members came together in their hometown of Birmingham, England to form a few groups before they officially became Black Sabbath.
The band played songs with a bluesy, rock and roll vibe, but started to gain influence from the horror movies of their time. In addition, guitarist Tommy Iommi had recently suffered an injury at his factory job in Birmingham. There was a machinery malfunction and two of Iommi's fingers on his right hand were chopped off.
According to Rolling Stone magazine the accident was actually a blessing in disguise; "[Iommi] created makeshift fingertips, invented light-gauge strings, dropped his tuning and explored a number of other ways he could play guitar. The combination led to an 'aggressive, raw and fat' sound." Iommi's playing style became Sabbath's trademark, making every new song unique and inspiring.
While the band was experimenting with their new, darker tones, they were also trying to land a record deal. Many record labels were asking for pop and blues style music, however the band resented any direction that was being forced upon them.
The band members dug deeper into their "Black Sabbath" roots and recorded their debut album in less than 24 hours after pooling money and buying studio time. They did not know it at the time, but what they had recorded would open doors to a new genre of music as well as multiple sub-genres.
During the era of Sabbath's conception, the Western music world was producing light-hearted, rhythmic tones that flower-wearing hippies adored. "Black Sabbath" was something new that rock and roll fans loved, but critics despised.
For example, according to the Guardian.com, highly read and respected critics dismissed Black Sabbath after releasing their debut album. In one instance Lester Bangs, "called the songs 'stiff recitations of Cream clichés … grinding on and on.'" In the same Guardian article Robert Christgau stated that he had, 'been worried something like this was going to happen since the first time [he'd seen] a numerology column in an underground newspaper."
Despite what these critics had to say, Black Sabbath was the band's self-titled debut album and it topped charts. The first album alone contained songs that would revolutionize music from the late 1970's up until today. Two of my favorite songs, "Behind the Wall of Sleep" and "The Wizard" from the first album not only allowed the band to gain fame but also bridged the gap between rock, blues and heavy metal.
Sabbath's blues/jazz influences coupled with they're newly found hostile harmonies created a path for Sabbath's evolution. The band also helped to breed and progress bands in the late 70's and throughout the 80's. Many of these young bands were finding their image during this time period. All the while, these budding bands were listening to and gaining influence from the album Black Sabbath.
With Black Sabbath being sold worldwide, heavy metal was born. Songs like "Black Sabbath" and "Sleeping Village" influenced a sub-genre of heavy metal called "black metal". According to the Houston Press, "black metal [had a] fascination with Satanism." Sabbath does not sound much like the black metal that exists today, however their song "Black Sabbath" has a, "cinematic opening, full of heavy rain and droning church bells, [which] would also heavily inform the softer, more atmospheric strains of black metal that would arise in the genre's second wave," wrote the Houston Press.
Beyond the debut album, songs that were released later kept on inspiring. "Thrash metal" became another big sub-genre of heavy metal music. Sabbath's songs "Symptom of the Universe" and "Sabbath Bloody Sabbath" became benchmark hits for new bands like Metallica, Slayer, Megadeth and more. You can hear bits and pieces of these Sabbath songs in Metallica's "The Shortest Straw" and "Fight Fire With Fire."
Black Sabbath still influences current music that's been released within the past five years. Take one listen to the band Fuzz and you can tell they paid attention to Sabbath's teachings. Songs from Fuzz such as "Loose Sutures" and "Say Hello" relate heavily to Sabbath's "Fairies Wear Boots" and "Selling My Soul". While Fuzz is a bit less lyrical than Sabbath, you hear the influence in their drawn-out power chords and the music's dark tone.
While Black Sabbath's influence directly affected our music culture, it also gave ideas to authors and directors. Black Sabbath's music employed ideas related to evil, paranormal activity, black magic and paganism as illustrated in songs like "N.I.B" and "Black Sabbath. Movies such as "Children of the Korn", "The Shining" and "The Poltergeist" that came out in the 1980's reflected these ideas.
In addition, Black Sabbath accrued a fan-base that is among the most prolific of its kind. After decades, fans flocked to Black Sabbath's "The End" tour where they played their last shows at their favorite cities around the world. Sophomore Monmouth student, Zach Bogetti was lucky enough to get a ticket to Sabbath's last show at Madison Square Garden in New York. Bogetti said that, "[Sabbath's] lyrics definitely set them apart. They all had deeper meanings that stemmed from the era they were written."
The fans are a great indicator when determining a band's influence. Sabbath fans like Bogetti are knowledgeable about the band's history. In addition, the demographics of Black Sabbath's listeners vary widely. So when many people come together in the way these fans have, there is no questioning Sabbath's influence.
Black Sabbath made music that will last generations. These songs have influenced future musicians, bands, authors, artists and movie directors worldwide. Black Sabbath is not simply the soundtrack to our culture; the band took part in shaping culture as we know it today.